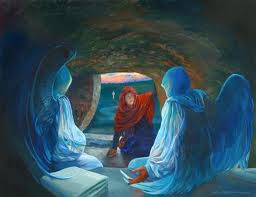 "There was a violent earthquake, for an angel of the Lord came down from heaven and, going to the tomb, rolled back the stone and sat on it. His appearance was like lightning, and his clothes were white as snow. The guards were so afraid of him that they shook and became like dead men" (Matthew 28:2–4). Jesus had risen—he is alive! JESUS CHRIST HAS RISEN INDEED! Jesus Christ is seated at his right hand of the Father in the heavenly realms. Oh, what a glorious God we serve!
¡Cristo Jesús ha resucitado!
"Sucedió que hubo un terremoto violento, porque un ángel del Señor bajó del cielo y, acercándose al sepulcro, quitó la piedra y se sentó sobre ella. Su aspecto era como el de un relámpago, y su ropa era blanca como la nieve. Los guardias tuvieron tanto miedo de él que se pusieron a temblar y quedaron como muertos" (Mateo 28:2-4). Jesús había resucitado— ¡está vivo! ¡SÍ, CRISTO JESÚS HA RESUCITADO! Cristo Jesús está sentado a la mano derecha del Padre en el reino celestial. ¡Cuán glorioso es el Dios que servimos!